First - grab my Lil' Chickie pattern from my shop!
Follow that pattern, using brown for the body & wings and yellow for the beak & feet.  For the tuft, use orange.
For the Wattle:  Using red yarn & your chosen hook, CH 5.  Work 3 DC in 2nd CH from hook, SC in remaining chains.  Fasten off, leaving a long tail to sew your wattle to your Tom.
For the Tail: Tail Feathers (Make 7)  I made one yellow, two orange, and 4 red.
Round 1: 5 SC in MR.
Round 2: 5 INC.
Rounds 3 - 9: SC in each ST around.
Flatten your feather & working through both sides, work 5 SC to close the feather.
Sew your wattle just above your beak.
Arrange and sew your tail feathers to the back of your turkey.  I started by arranging five feathers: red, orange, yellow, orange, red.  Each feather has 5 STS across the bottom.  I sewed each orange feather half way overlapped on each red feather.  I sewed through the bottom SC STS.  Then I sewed the yellow feather overlapped on the two orange feathers.  I sewed these to the back of my turkey six rounds from the center of the bottom in a slight arch.  Then I sewed the remaining two red feathers behind the set of five in the center space of the arch.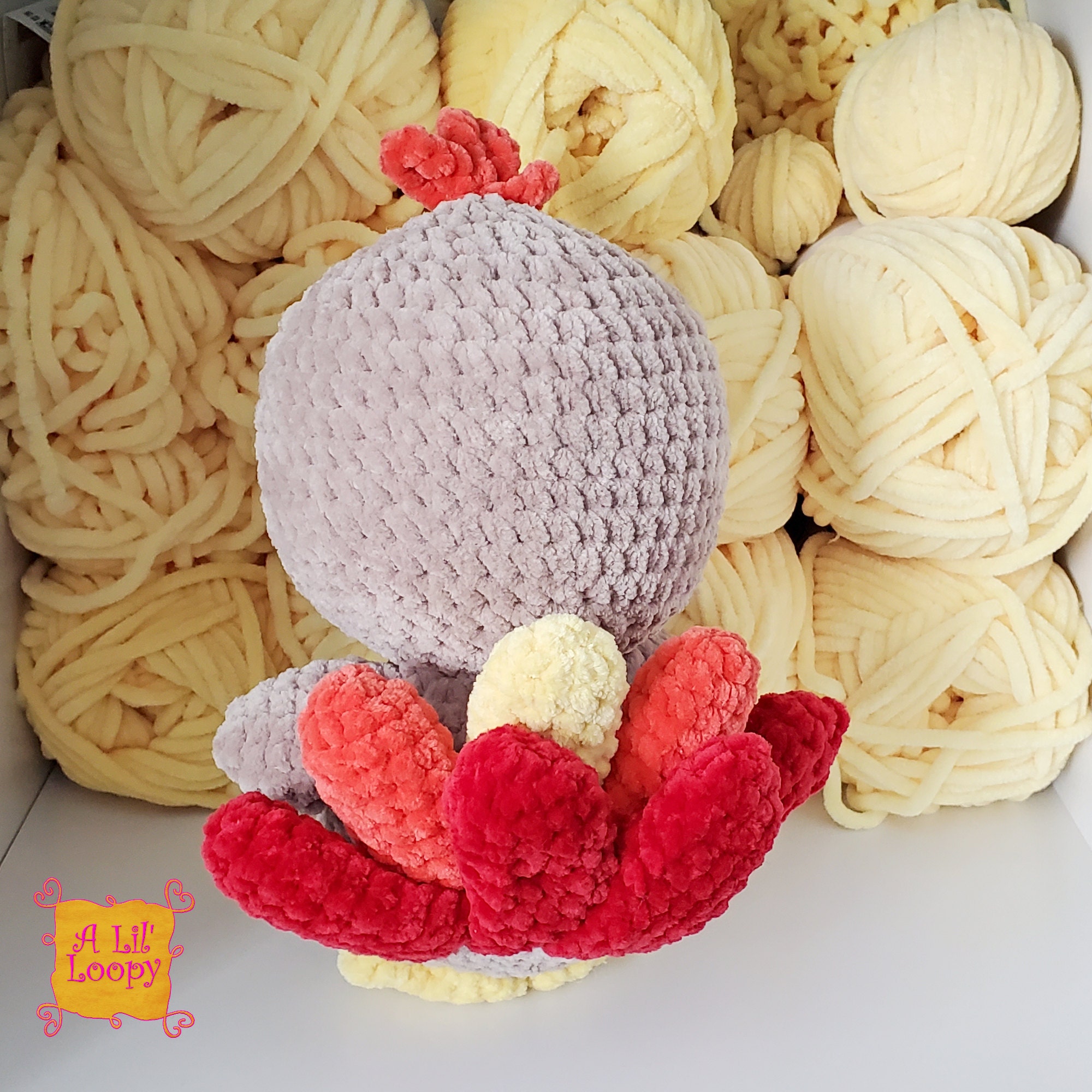 **This pattern and the photographs contained herein are the sole property of Nikki Little and A Lil' Loopy. This pattern is for personal use only. Reproduction or distribution of this pattern, in whole or in part, and/or it's photographs is strictly prohibited. Items made from the use of this pattern may be sold both in person and online. If selling online or posting finished products to social media, please offer pattern credit to @ALilLoopy**